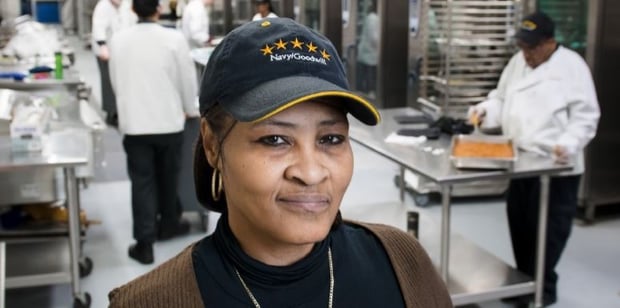 Before coming to Goodwill, Theresa would describe herself as financially, spiritually and emotionally bankrupt. After spending 25 years in and out of jail, with a total of nine incarcerations, Theresa knew that the road to a better life was going to be long, and she wasn't sure where to start. She didn't think anyone would give her a job or a second chance.
Theresa had hit rock bottom when she decided to change her life. After making it through her first year in rehabilitation for drug abuse, Theresa learned about Goodwill Great Lakes, where Goodwill provides food service, issues uniforms, delivers mail and performs other logistic services for Sailors and Recruits at the Navy's only boot camp – Naval Station Great Lakes. She decided that it was a good first step to making a better life for herself and her family.
Theresa came through a vocational transition program and started as an AbilityOne Food Service Worker at Goodwill Great Lakes. She progressed to Cook and began her American Culinary Federation (ACF) certified training while once again advancing on the job to a VIP Cook. With each promotion came more responsibility, more opportunities, and she used her work at Goodwill as a catalyst for change in her life. She took advantage of the support and assistance she received through the AbilityOne Program, such as coaching and guidance, accessing community resources, establishing long-term goals and collaborative problem-solving. Theresa also took advantage of the tuition reimbursement program and began pursuing her Associate's degree in business management.
Today, you can find Theresa leading a team of 50-75 Food Service Workers as a Food Service Supervisor, working alongside her team as they feed 2,500-3,000 Navy Recruits lunch and dinner. Theresa knows that her continued growth is the key to a bright future, and with the support of her Goodwill family, there is nothing stopping her from achieving her dreams.