Meet Molly - a fun, active and social young woman who attends Goodwill's Waukesha Day Services program. Summer is always busy for Molly and Goodwill proogram members, as their days are filled with outdoor activities like Garden Club, sailboat excursions on Lake Michigan and trips to the Milwaukee County Zoo (one of Molly's favorites!)
long with Molly, 30 other participants come to the Waukesha site each week to learn, enjoy group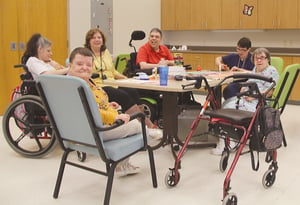 activities, and practice their communication skills, as they socialize with others. In addition to fun outdoor outings, favorite activities include indoor bowling, movie Fridays and creating rhythms and songs in music therapy sessions.
Supporting adults with disabilities to enjoy active and fulfilling lives is the mission of Goodwill's Day Services programs, which includes encouraging independence. A key part of the program is advocating participant choice in their day-to-day experiences.
"I see participants thrive when they are able to make decisions when given choices of activities or outings they want to participate in. They give input during participant council meetings I hold," says Case Manager, Tina J.
Involving participants in creating the monthly activities calendar is one of the ways individuals are empowered to communicate and share their interests with the group. The variety of options allows participants to experience new things out in the greater community, while still enjoying longtime favorite activities. These opportunities and group experiences foster growth in learning and independence in the lives of each participant, including Molly.
"In Molly's time here, I've witnessed her make new friends, choose the activities she wants to participate in, increase her communication and learn how to constructively work through emotions when feeling frustrated or mad. I'm very proud to work in this program at this center," shares Tina.
Goodwill's Day Services programs are made possible because of your purchases and donations at our Goodwill Store & Donation Centers. Thank you for your continued support of our mission!