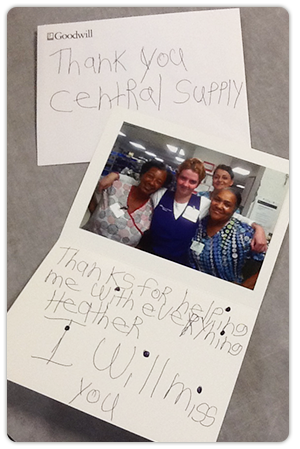 Meet Heather B. Heather recently completed her job-readiness experience with the Community Access Program and is now working with Supported Employment, which helped her quickly get a job at the Wisconsin Athletic Club.
While Heather was in Community Access and preparing for employment, she volunteered at Aurora St. Luke's Hospital where she delivered medical materials all over the building for the Central Supply Department. This was not an easy task to master! With persistence and focus, Heather learned to navigate the hospital and gained valuable skills that she's applying in her job today. The key to her experience was the relationships she developed with the staff of Central Supply. These wonderful relationships gave Heather a positive experience, full of laughter and even occasional hugs. She also had a chance to open up and strengthen her social skills while closely interacting with others. To recognize the impact these relationships had on her before leaving St. Luke's, Heather took a photo with the ladies of Central Supply and gave it to them with a heart-felt thank you card.
Heather's growth and development in the workforce arena is a result of Milwaukee County Department of Family Care for Community Access funding during her Community Access experience, as well as support from the Wisconsin Department of Vocational Rehabilitation (DVR) in her current Supported Employment experience. DVR not only helps with funding, but also is instrumental in assessing, counseling and placing participants.