Nurturing the Seeds for Student Growth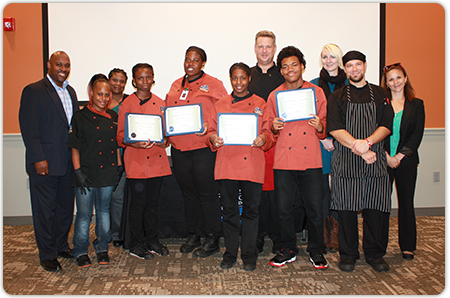 The convergence of three separate seeds led to a first of its kind Milwaukee Public Schools (MPS) high school student internship within Goodwill's Culinary Institute this summer, sparking a Hospitality Career Path interest for all four student interns. The first seed was the long time partnership between MPS and Goodwill TalentBridge, which provides daily staffing support within MPS's Food Service operations as well as other roles. The second seed was Goodwill's participation in WI FaB (Wisconsin Food and Beverage Industry Cluster) Career Exploration Day at MPS Vincent High School in April 2015, where Derek Small, Goodwill's Culinary Operations Manager, was part of a five-member panel of industry experts speaking with 150 high school students. The final seed was a generous grant from the Miller Coors Foundation, to provide financial support of the eight-week training program for the student interns.
The process began with TalentBridge recruiting and screening individuals with support from MPS's Youth Apprenticeship team and selected high schools. Four students were chosen, two from Vincent High School and two from Washington High School. On July 6, their internships began with a week of classroom training of Skills for Life and Work. For the next seven weeks, the interns gained valuable work experience, as well as their ServSafe Certification within the Culinary Institute at our James O. Wright Center for Work and Training on 91st Street in Milwaukee. The internship culminated on August 27 with a graduation ceremony, just in time for each student to return to high school in the fall.
This was an amazing experience for the students, as they all rated their experiences a "10" and all are seeking youth apprenticeships in the hospitality career pathway. Graduate Tristina S. said, "I learned way more than I thought I would. I want to thank you for the experience." Graduate Tommy K. said, "I want to thank every chef here who helped me. I enjoyed every minute of it." Terri Salzer, from the MPS Youth Apprenticeship & Other Work-based Learning commented, "We sincerely appreciate everyone's work in getting this pilot out of the planning stage so quickly. What an impact you have made!" Goodwill wants to thank Miller Coors Foundation for their generous support. From our own Culinary Institute team's perspective, this was a wonderful experience. Goodwill Food Service Trainer Mikki Huff said to the students, "I told you on day one that it's all about choices. Your choice to work at this program and complete it says a lot about you. You're already on the right path. You have such a strong work ethic for your age. I'm really proud of you!"
Plans are in the works to grow this partnership with future student internships and the possibility to extend our training into several of the schools. We were fortunate to have helped these four students grow their skills and discover a career path in the hospitality industry.