Goodwill Takes First Place in Navy Culinary Competition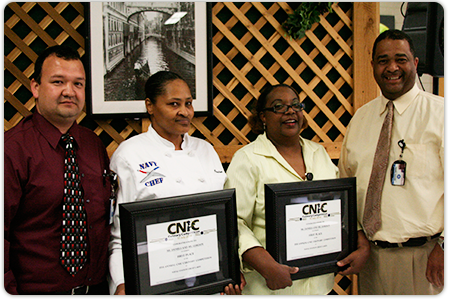 Last month, Commander, Navy Installations Command held its fifth annual Culinary Competition at Goodwill Great Lakes. Featuring nine teams from around the world, and representing the Navy's best chefs, the week-long event included a whirlwind of classes, food events and the competition itself. Taking first place for the first time was Navy Region Midwest, represented by Goodwill cooks Anna Daniels and Theresa Gordon! They are the first civilians to achieve this feat.
It all began back in April when a call went out to all Great Lakes cooks asking for willing competitors. An American Culinary Federation-certified chef oversaw the organization of the two-month training that included knife skills, menu creation, proper cooking and serving temperatures, plate presentation, use of unfamiliar ingredients and more. A generous group of food professionals offered their time and expertise to train the contestants and begin the process of shaping the chefs of tomorrow.
The competition itself found teams of two chefs each, preparing eight servings each of one appetizer and one entrée. Following the challenging five-hour competition, teams were debriefed by the judging chefs and given another round of world class advice from a group that featured over 450 years of collective culinary experience. Anna's and Theresa's prowess and creativity in the kitchen earned them the top honors as well as the admiration and gratitude of Navy chefs, participating competitors and Goodwill Great Lakes!