The Donald Driver Mentoring Program Begins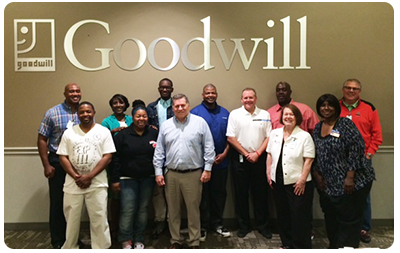 On June 2, Goodwill officially launched the Donald Driver Mentoring Program pilot in Southeastern Wisconsin. This program, endorsed by retired Green Bay Packer, Donald Driver, was developed to foster the continued personal and professional growth and development of individuals served or employed by Goodwill, especially in relation to their employment goals, through one-one-one mentoring relationships with community leaders and personal advocates.

The mentors and mentees selected to participate in this program come from various backgrounds; each individual bringing unique and diverse experiences to the program. Individuals selected to participate are paired together for a mentoring relationship term of one year and asked to meet for at least two hours each month, over the course of that year.

In order to be considered for the program, all mentees must be employed, have a connection to Goodwill, either through a Goodwill program and/or service or be actively employed within one of Goodwill's operations, have a positive attitude, and have a desire to continue their personal and professional growth, among other things. Additionally, mentees must be referred to the program by a Goodwill employee and complete an informational interview process, at which time the Donald Driver Mentoring Program Selection Committee assesses the individual's commitment level and determines if there is an appropriate mentor match.

The mentors selected to participate in this program are all volunteers from various organizations throughout the community, who have been referred to the program by an employee of Goodwill and have a strong desire to give back to their community through one-on-one mentoring relationships. All mentors must submit to a background check and complete and interview process before being selected for the program.

As with all of the programs and services Goodwill provides, The Donald Driver Mentoring Program is another great demonstration of Goodwill's desire to continue to give the individuals we serve the tools and resources to be successful. To learn more about the Donald Driver Mentoring Program, contact the Goodwill Intake Line at (855)455-1110.